Skin Testing using Tissue Viability Imaging (TiVi) – Microcirculation and other Skin Parameters
Welcome to the WheelsBridge website. We develop, manufacture and bring to market innovative systems for skin assessment. We work in close collaboration with our clients in skin testing and product development projects.
Tissue Viability Imager (TiVi700 2.0) quantifies what can be observed by the naked eye and takes subjectivity out of skin testing.
The new TiVi700 2.0 technology combines polarization spectroscopy with advanced image processing but is still versatile and easy to use.
Whether you work with skin care, cosmetics, textiles, drug development, microvascular research, occupational medicine or medical research, the TiVi700 2.0 Tissue Viability Imager will increase your productivity by automatically visualizing and quantifying skin erythema and blanching as well as many other important skin parameters.
The Tissue Viability Imager is a research instrument and no diagnostic or therapeutic claims are made for the device.
---
TiVi700 2.0 is the most sophisticated version of the TiVi technology designed for demanding skin testing and microcirculation research applications, now also including microvascular pulse mapping.
Download Pamphlet. Download Manual.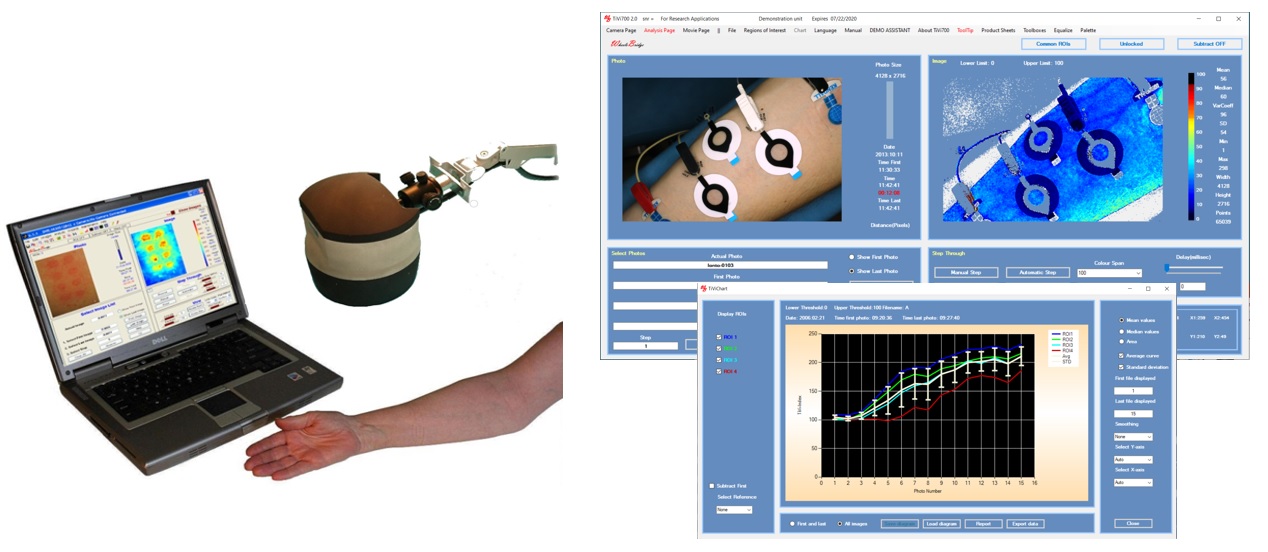 TiVi700 2.0 now also with integrated video. 100% free from movement artifacts. Suitable for investigation of microcirculation in moving objects.
Click here to download demo video – triple response following scratching of the skin.
Click here to view demo-video – patch testing.
Click here to view demo video – capillary refilling.
Toolboxes :
Click on an item below to download the manuals for toolboxes.
TiVi60 – Skin Damage Visualizer –  Investigates skin vascular damage caused by use of aggressive chemicals or vibrating tools.
TiVi70 – Skin Colour Tracker – Displays alterations in local skin appearance by tracking its colour changes.
TiVi80 – Spot Analyzer –  Observer-independent assessment of spot erythema intensity and extension.
TiVi90 – Wrinkle Analyzer –  Observer-independent assessment of wrinkle appearance.
TiVi95 – Surface Analyzer –  Observer-independent assessment of cellulite appearance.
TiVi97 – Pigment Analyzer –  Automatic analysis of local pigmentation.
TiVi98 – Microstructure Analyzer – Investigates miniature structures such as hair and stubble elements.
TiVi101 – Sweat Gland Activity Analyzer –  For analysis of dynamic sweat gland activity.
TiVi102 – Nevus  Analyzer –  Observer-independent assessment of nevus and other skin lesions.  
TiVi103 – Wound Analyzer –  Observer-independent analysis of wounds and the tissue repair process.
TiVi104 – Stubble Analyzer –  Observer-independent analysis of stubble elements and skin irritation.  
TiVi106 – Oxygen Mapper –  Observer-independent analysis of trends in oxy- and deoxy-haemoglobin.
Extensions :
Click on an item below to download the manuals for extensions.
TiVi201 – Multi ColoursTracker –  Displays all pixels with colours within selected colour space.  
TiVi202 – Small Objects Tracker –  Displays blackhead and whitehead spots (comedos).
---
TiVi700 2.0 Features
Automatic capturing of up to 20 images of the microcirculation per minute (photo-mode).
Automatic capturing of up to 50 frames per second (video-mode).
Presentation of high resolution 2D microcirculation colour maps.
Statistical image analysis in batch mode.
Time compressed review of microvascular events using video-clips.
Voice control available.
Integrated Libraries and Trend monitors.
Integrated Report generator.
Rectangular, Elliptical and Freehand ROIs.
Dual camera operation (optional).
Languages: Chinese, English, French, German, Japanese.
TiVi Magnifier for lateral resolution of 5 micrometers per pixel (optional).
ROIs lockable to object.
WordPad linked to every photo for adding editable comments.
Data exportable to spreadsheet.
Runs on Windows 10.
TiVi700 2.0 Benefits
No injections, contrast agents or even skin contact necessary.
Instant image capturing.
Unaffected by movement artifacts.
Ease-of-use resulting in increased productivity in skin testing.
No influence on the microcirculation or skin under study.
No calibration necessary.
TiVi700 2.0 Applications
Skin care products, cosmetics and textiles development & evaluation.
Skin testing including irritation grading and patch testing.
Quantification of erythema and blanching.
Drug development including use of iontophoresis.
Microvascular research.
Occupational medicine.
Other skin parameter assessment.